It doesn't matter how many scooters we unbox and put together, it's still exciting to see what's inside the box.
Today we're unboxing not one but three new scooters from a brand new scooter company, or at least a new one to us – Solar.
We've got the Solar FF Lite, the P1 2.0, and the E1. We are super excited to open them up. So let's dive in!
What's in the Box?
The first thing to catch our attention is some funky-looking headlights – like Transformer eyes!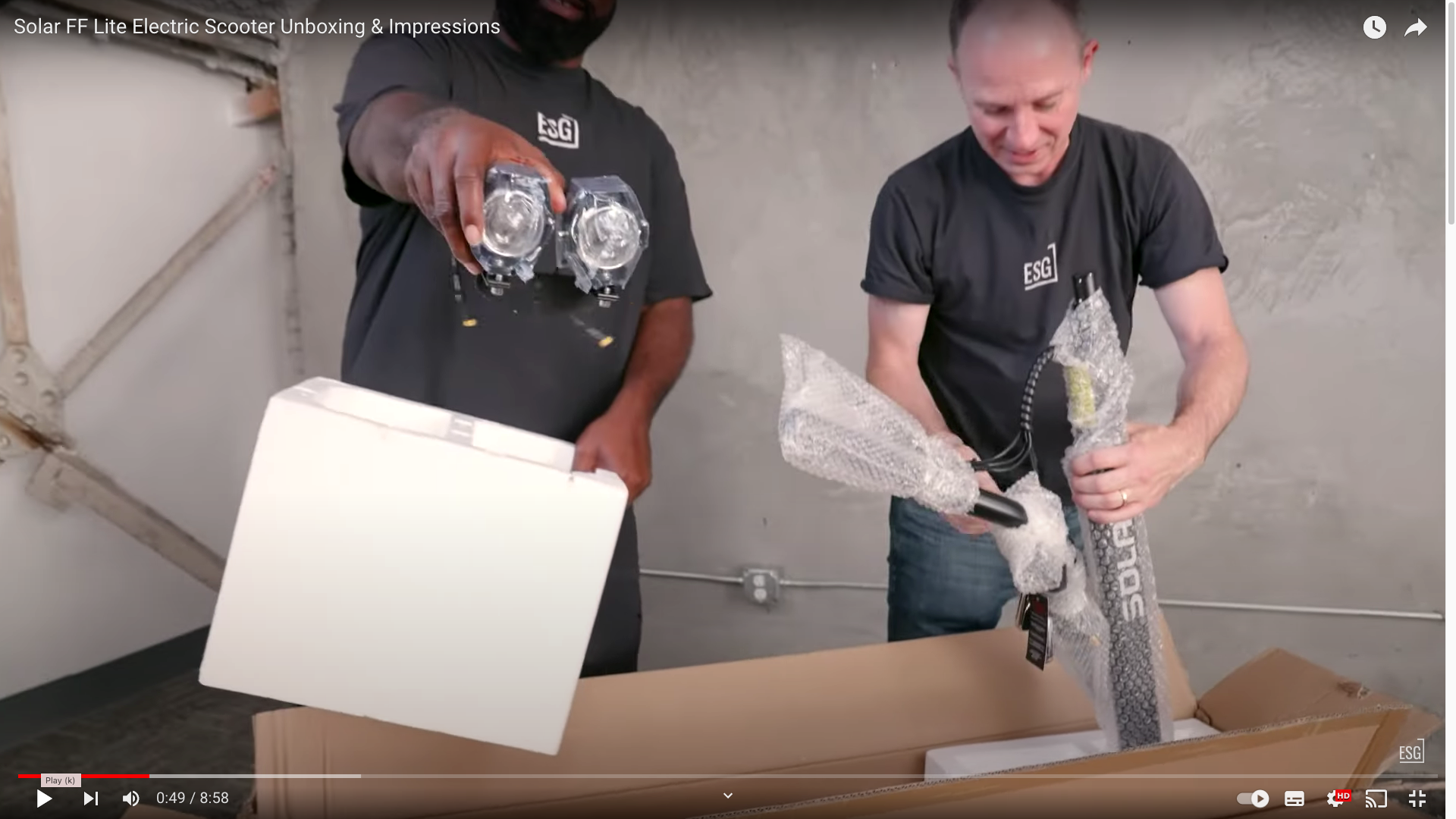 This scooter also comes with an adjustable steering damper – also known as a steering stabilizer, this is an accessory that improves high-speed stability by attenuating unwanted side-to-side oscillations in the front wheel or handlebars.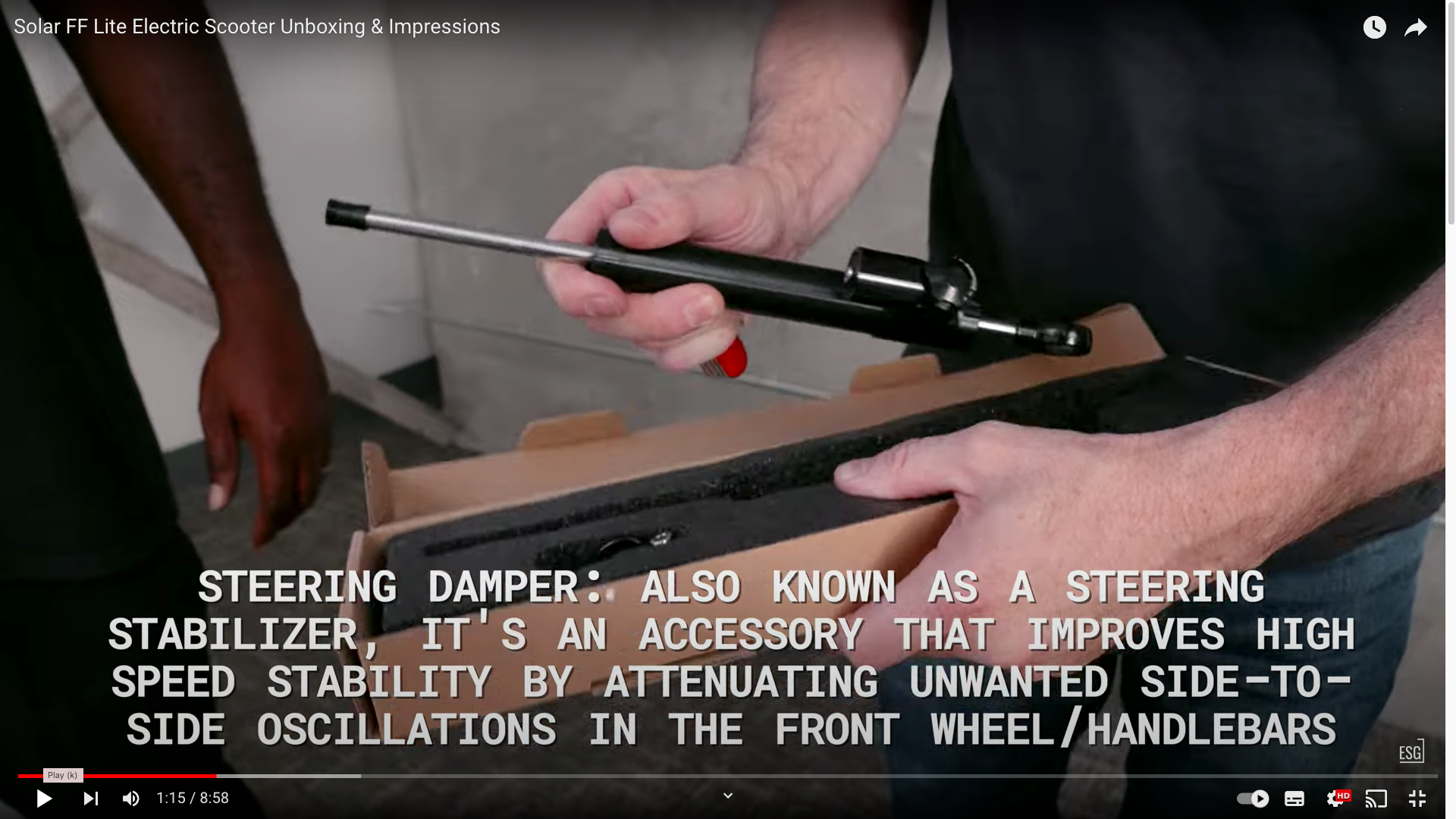 They also include something in the box that we've never seen before – REAL TOOLS! Then there's the owner's manual, a 2.5 amp charger, and a remote control – to operate the alarm system.
Professional Tool Set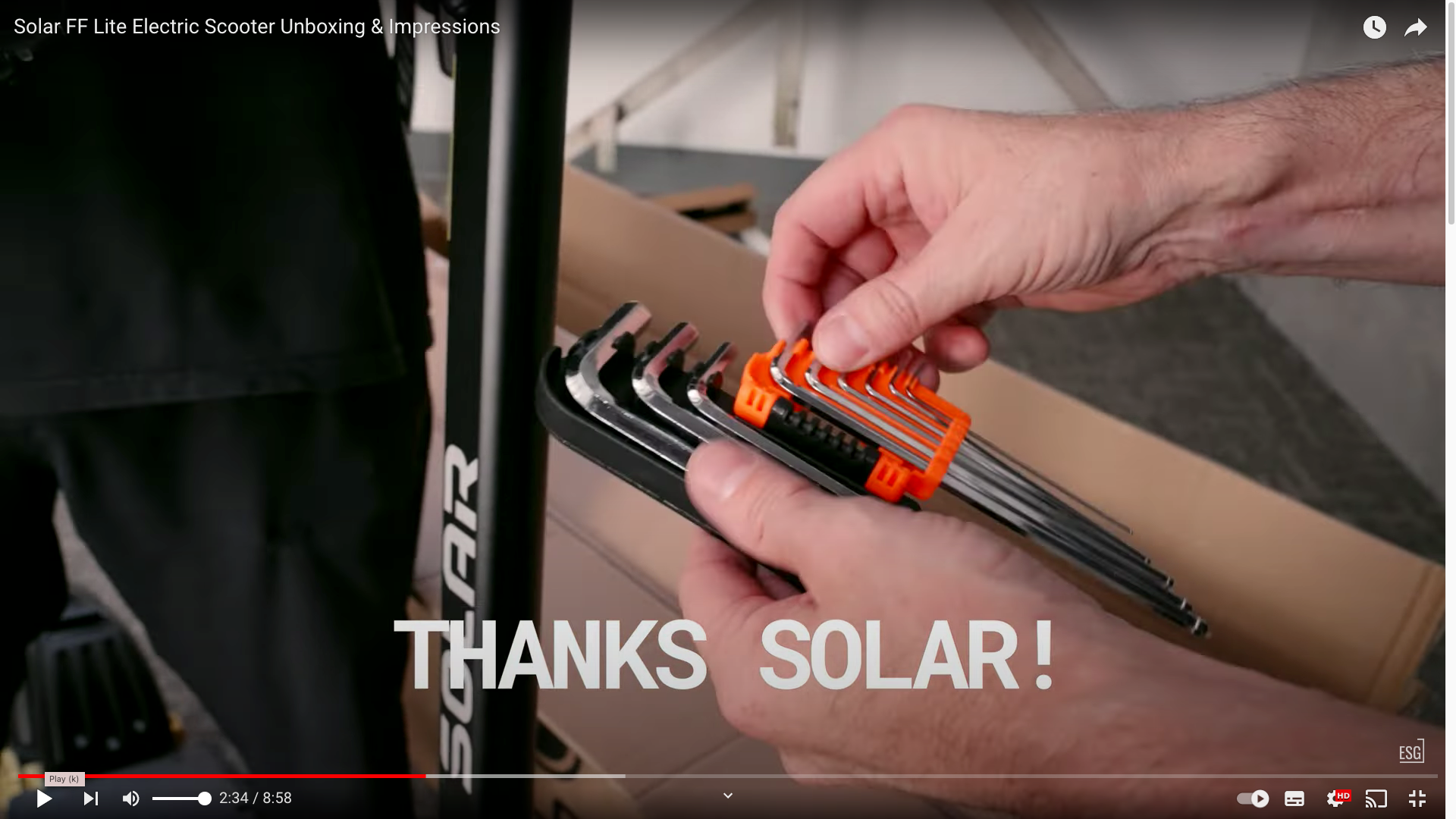 Even though there's two of us putting this scooter together, with this incredibly professional toolset, it can easily be done with just one person. Our initial concerns that assembling this scooter would be hard work haven't come true at all. It's so easy to put this Solar scooter together.
The Headlights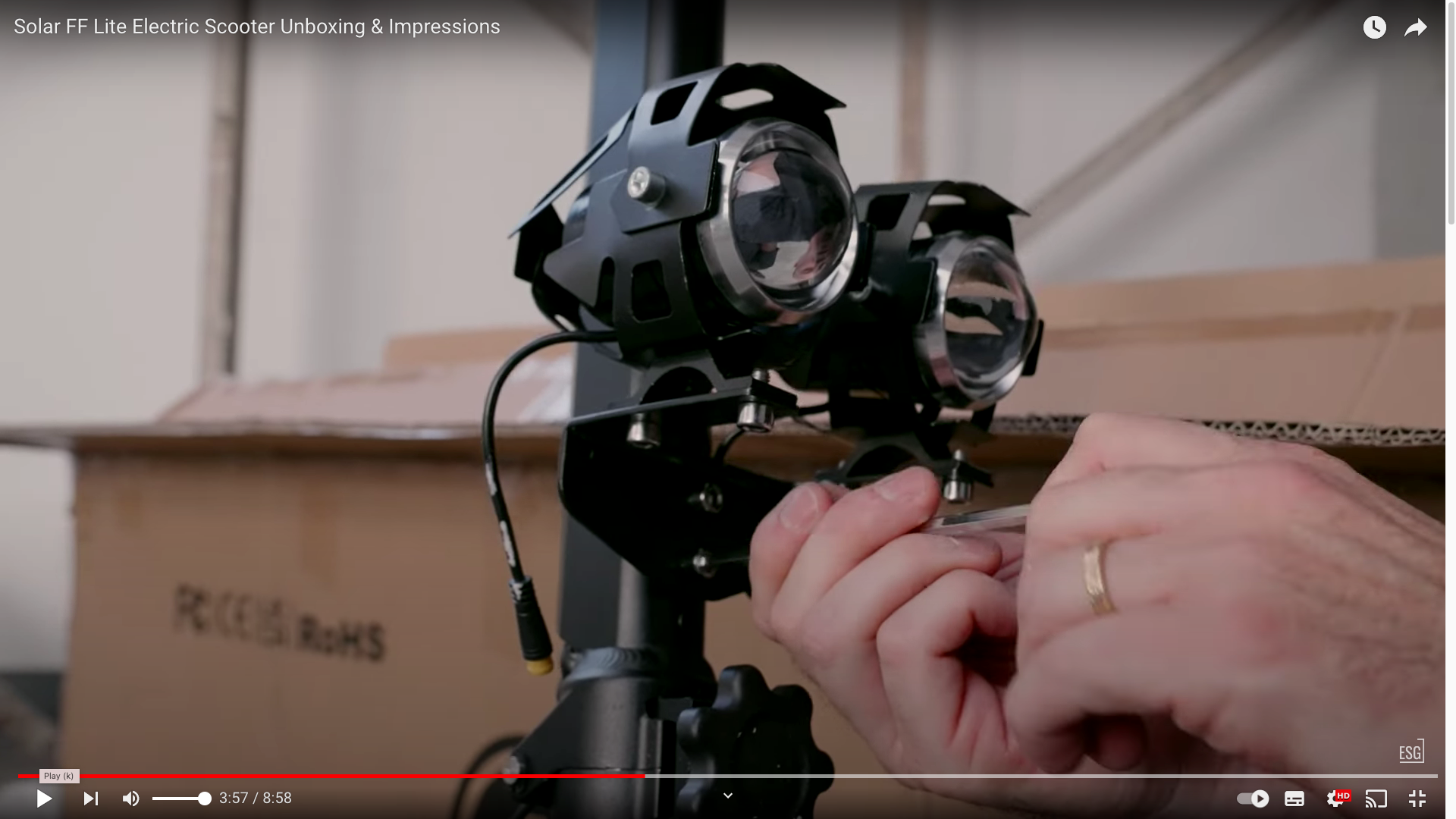 Solar headlights are quite possibly the coolest thing we've seen. We've never seen headlights like these – they look like something from the Transformers movie. To attach them to the scooter, you simply screw the lights onto the stem, then line up the connection, plug them in, and turn on the scooter.
The Keys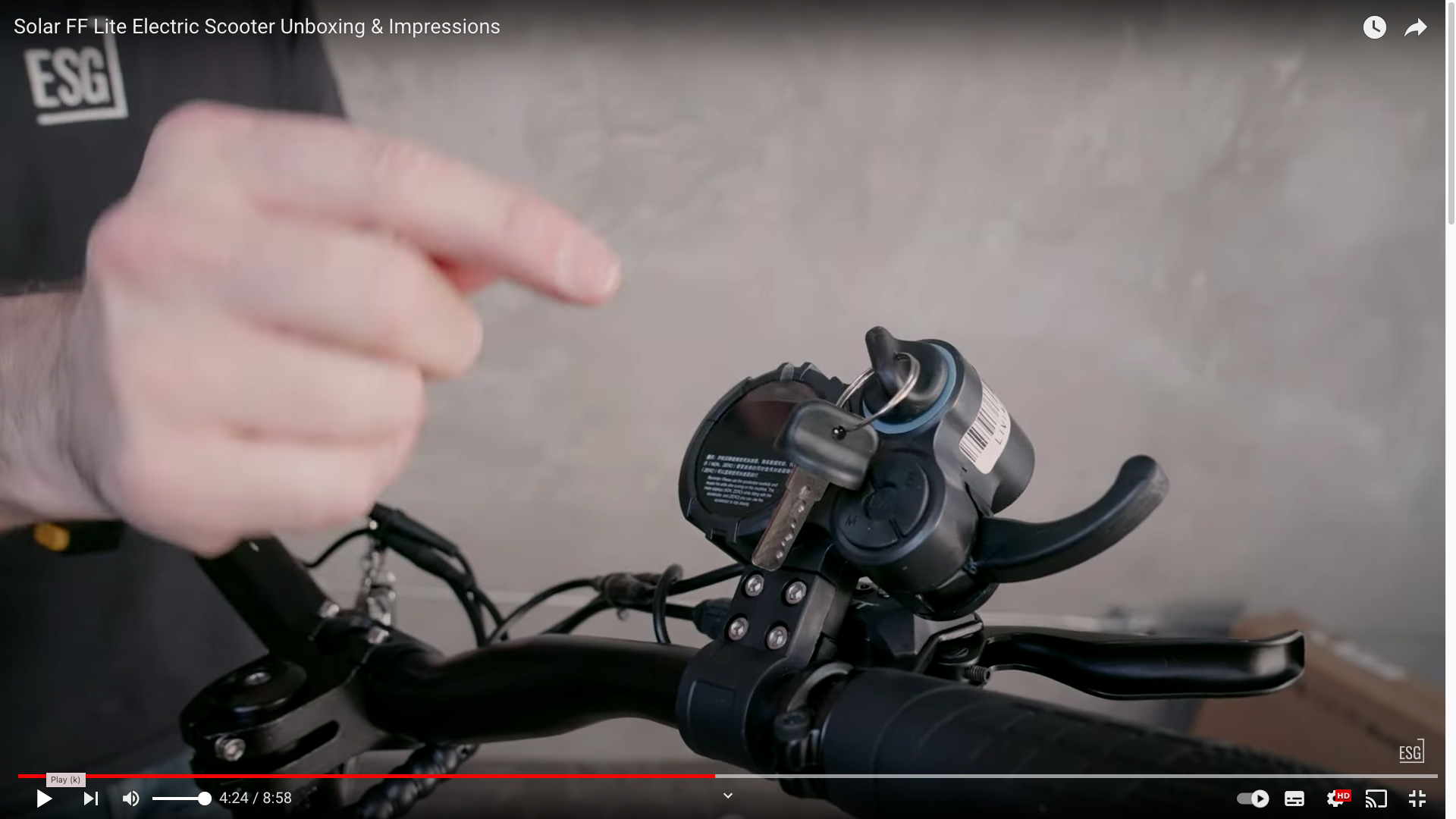 The scooter comes with a key (a very cool-looking key we hasten to add), it sits really flush into the lock so when you put it in, it's not going to break off, it just looks like a switch. And then if you take the key ring off, the connected key looks like a switch meaning nobody's going to know that it's a key and take it out if you leave it in, or steal it!
The Display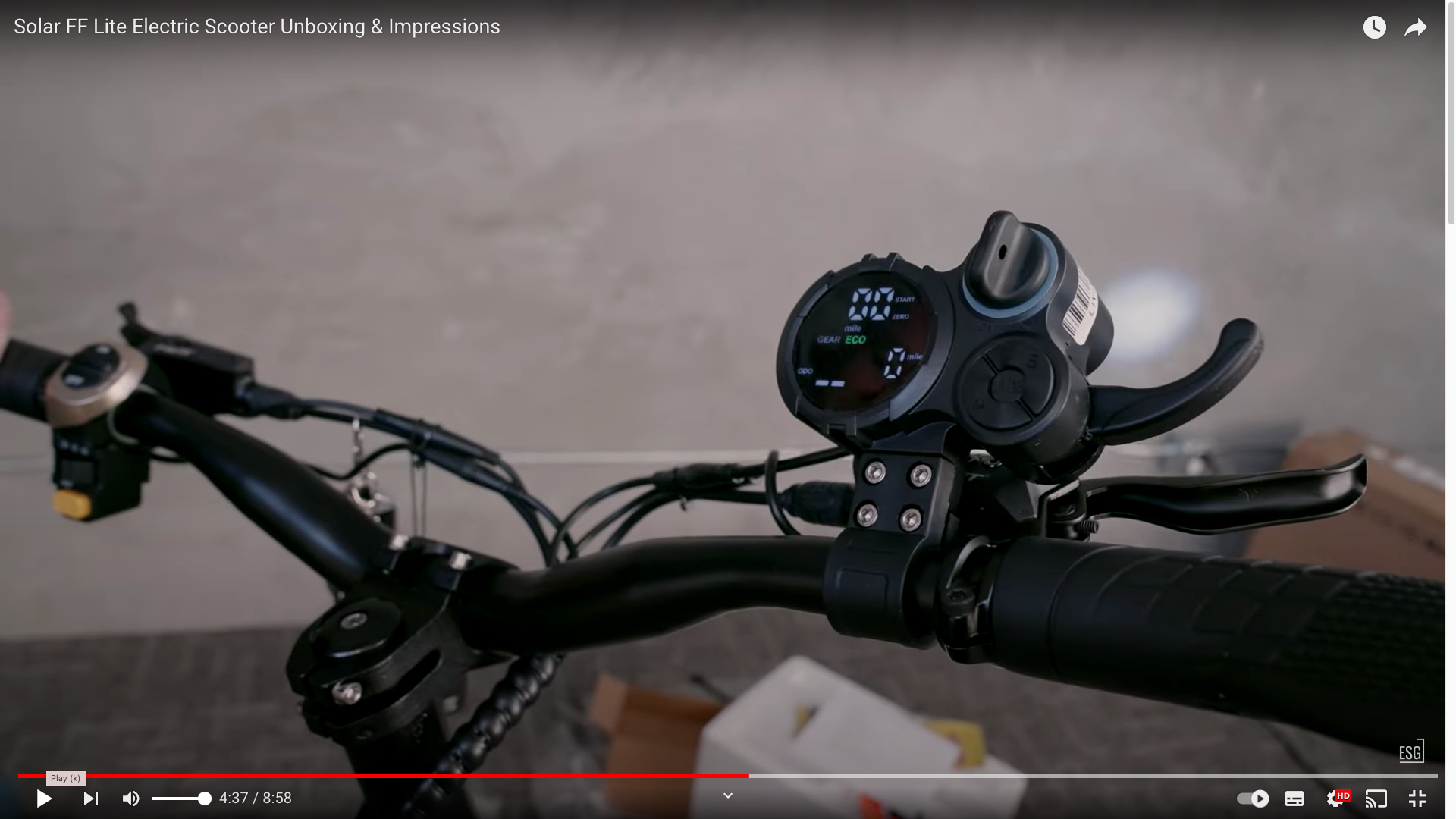 Wow, well this is nice, it's different, it's not the same EY3 display we see so frequently on other electric scooters.
The Handlebars
The handlebars look familiar, like Dualtron-style grips. You've also got Nut hydraulic brakes which feel great. Then there's the switch for the headlights (which might need a little adjusting to make sure they point in the right direction) which switches the headlights between different modes: low beam, high beam, and flashing.
You've also got turn signals front and rear, the switch for these is really nicely designed too, you don't have to look down at it to use it, you can feel what position it's in and then you can feel it go to the left, center, or right.
Hydraulic Suspension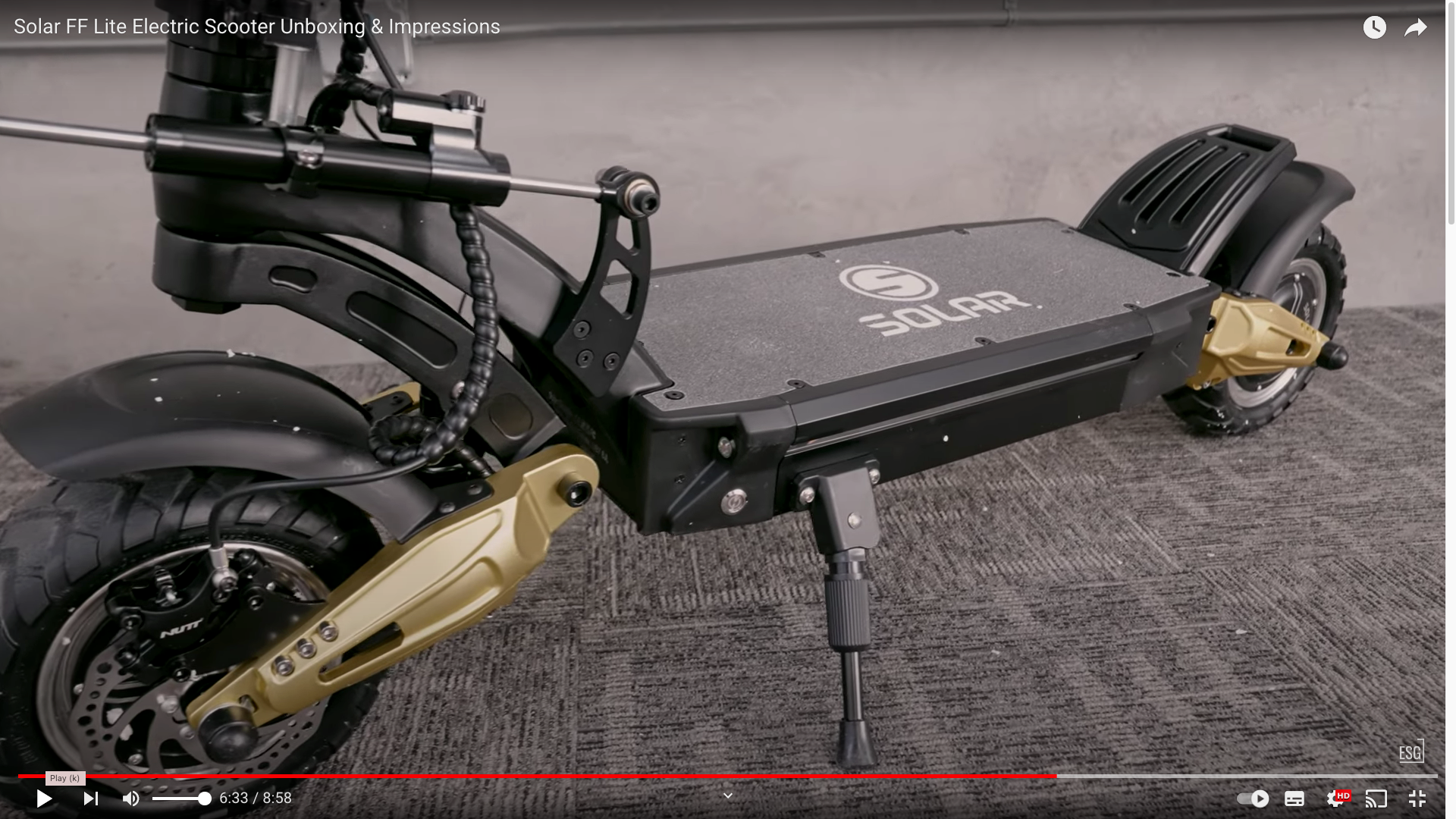 You can tell when a scooter has hydraulic suspension because it doesn't just bounce back like a trampoline, it's got some damping in there which is so important to keep the suspension from feeling like jelly.
It's got pretty strong springs too, we don't think they're adjustable though, they're just hydraulic, kind of like the ones on the VSETT 10+. These are springs with hydraulic damping, not adjustable, but they feel really well-adjusted.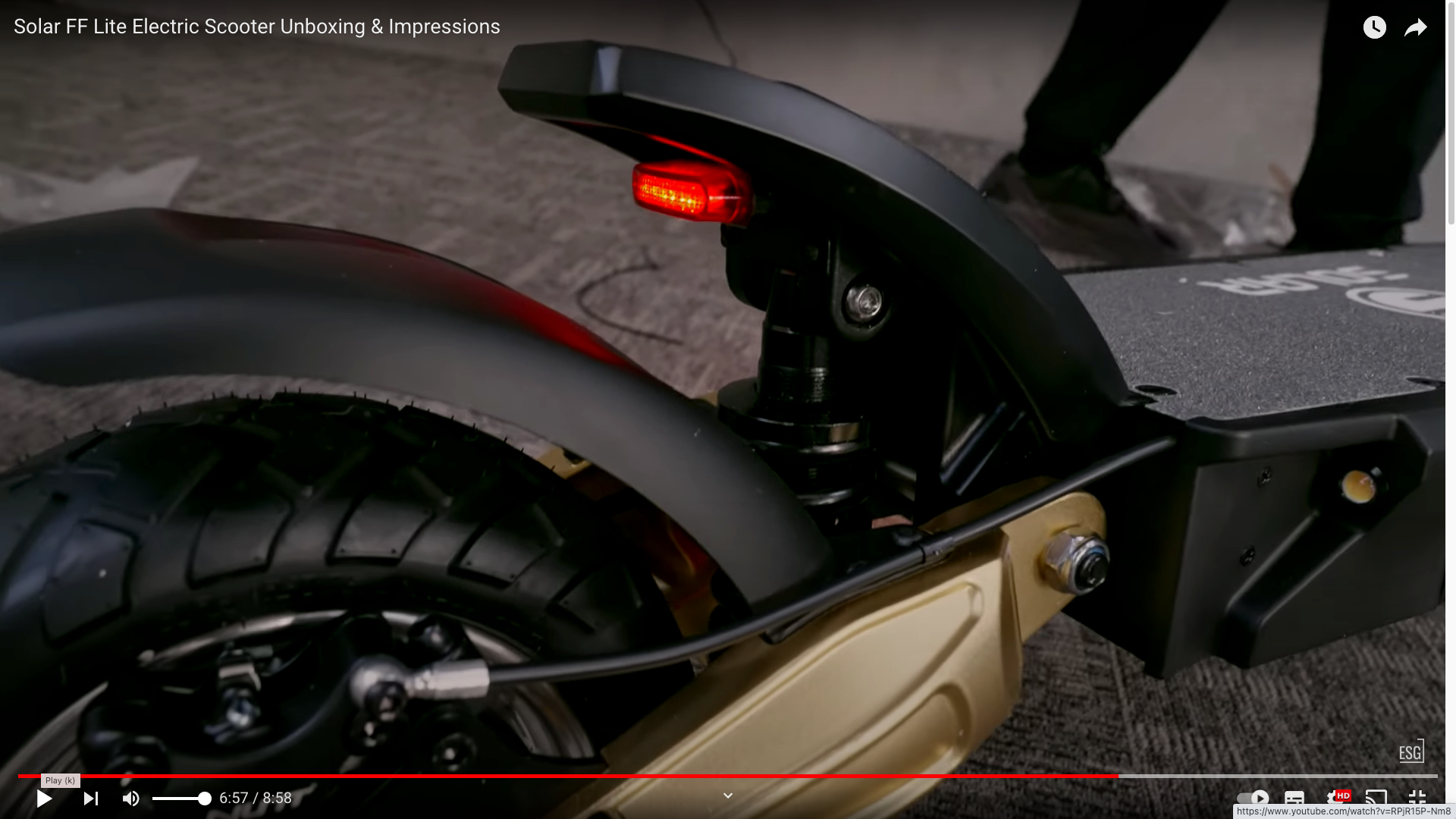 Finally, this scooter has an IP54 water resistance rating meaning it should be OK with some light splashes, just don't go out there and ride through any deep puddles.
The Specs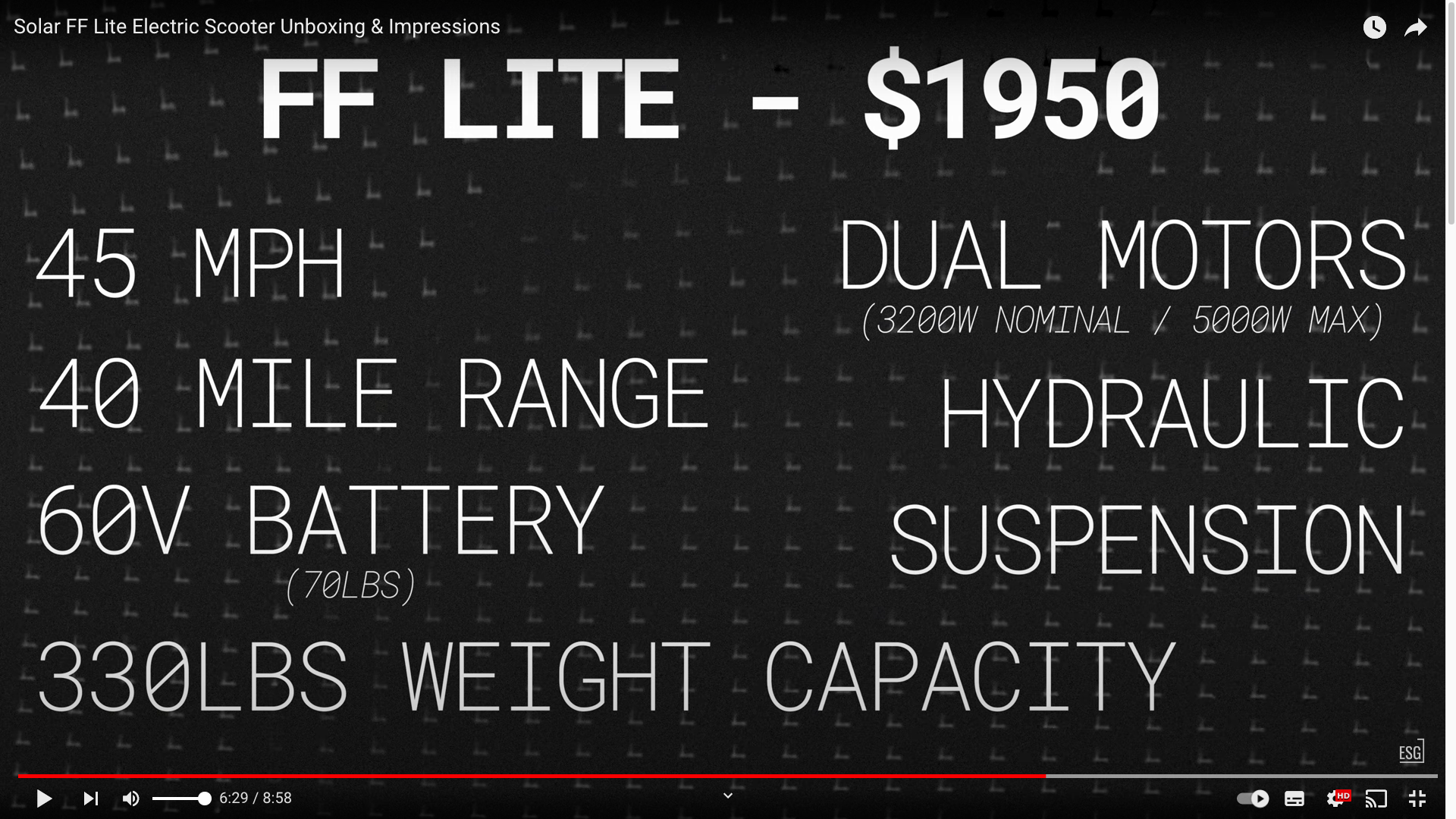 Some of the specs for this scooter:
The Solar FF Lite costs $1,950
It's one of the more powerful scooters from Solar
They say it can go 45 mph
It has a range of 40 miles – we usually get less than that on a range test because we ride things pretty hard
It's got a 60-volt battery
It weighs about 70 pounds – we'll weigh it and find out exactly what it weighs
It's got a big, maximum weight capacity – this one (and the next one we're going to look at) can both carry up to 330 pounds
It has dual motors with 3200 Watts nominal, and they say up to 5000 Watts max
It also comes with hydraulic suspension
Exploring the Three Solar Scooters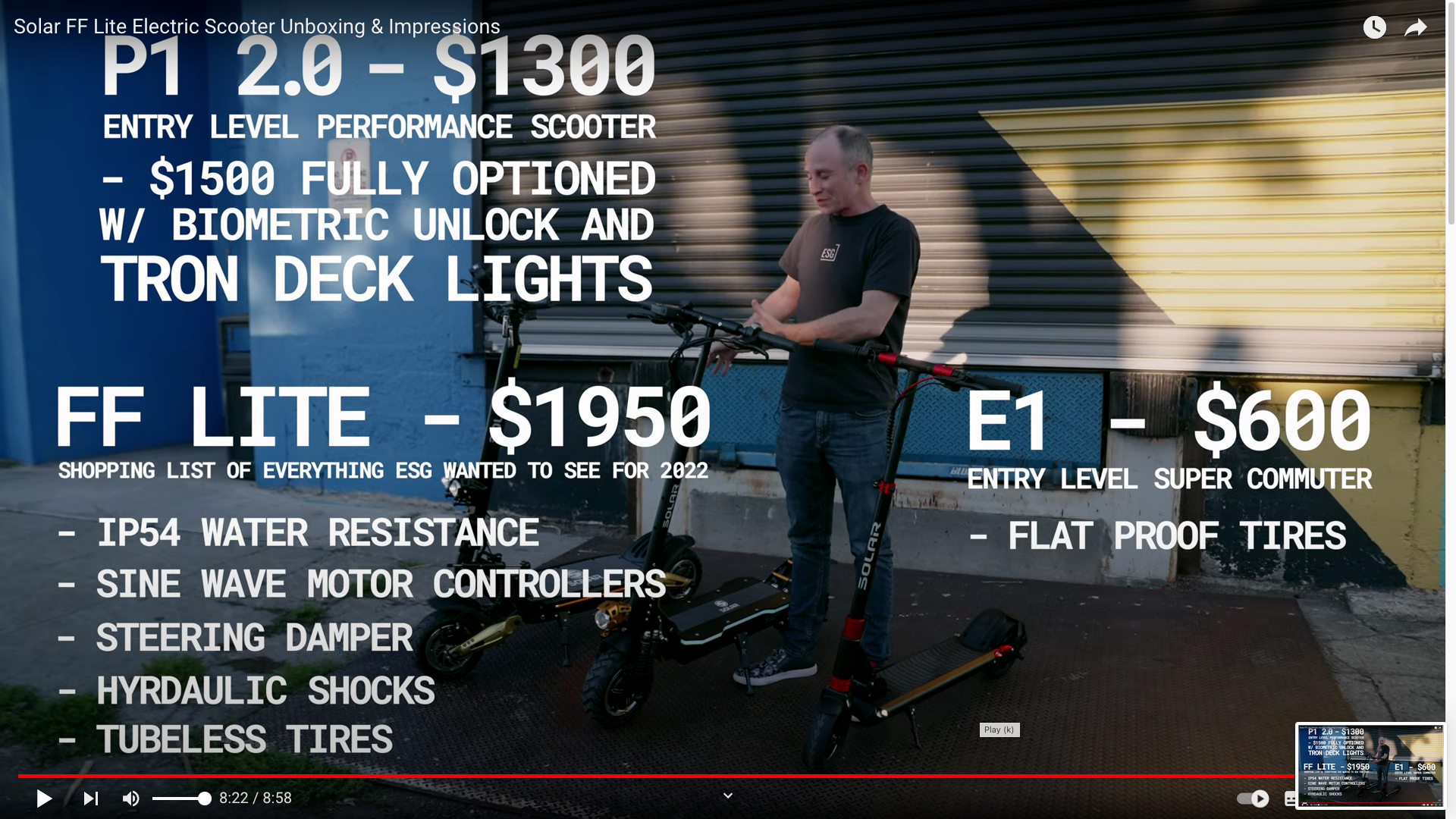 We've never unboxed three scooters at the same time before, so to help you keep them all straight:
Solar E1
The E1 is Solar's entry-level super commuter, priced at around $600, and comes with flat-proof tires.
Solar P1 2.0
Then there's the Solar P1 2.0 which is their entry-level performance scooter that's only $1,300, or $1,500 fully optioned with the fingerprint reader (biometric) and the Tron lights on the deck.
Solar FF Lite
Then we come to the Solar FF Lite, an electric scooter that is like a shopping list of everything we wanted to see for 2022:
It's got a great water resistance rating – IP54
It's got sine wave motor controllers for smooth throttle
A steering damper
Hydraulic shocks
Tubeless tires
Deck lights
It's even got an alarm system
All this for $1,950. This scooter has an absolute ton of features for an incredible price.
We are really looking forward to spending some time with these Solar scooters and finding out what the real tested performance is like!